Fibre
With the New Zealand Government's Ultra Fast Broadband (UFB/UFB2) initiative's truly underway, chances are that your place may already have access to this incredible Internet service.
Contact us now to see what's available at your place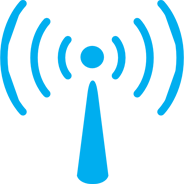 Wireless
Our wireless reach extends into the most unlikely remote places. Some communities in the vast depths of nowhere have access to super-fast Internet thanks to our well-built wireless infrastructure. If fibre is not available at your place, this is the next best thing.
Residential Internet Plans
Fibre is the fastest internet service available today.
Amuri Net's wireless is a solid, cost effective internet service. It has comparable speeds to copper broadband solutions, without the need for a phone-line.
RBI is the New Zealand government's Rural Broadband Initiative, aiming to bring urban class broadband services to rural communities. If Amuri Net wireless doesn't reach your place, this is the next best thing.
4G Urban Unlimited
$69
Speed (up to) 3G/4G
Data Unlimited GB
Setup $99
12 month term
4G Rural Capped
$89
Speed (up to) 3G/4G
Data 250 GB
Setup from $99-$499
open-24 month term
4G Rural Unlimited
$129
Speed (up to) 3G/4G
Data Unlimited GB
Setup from $0-$499
open-24 month term
Below is our pricing on phone lines.
Addon to Fibre/Amuri/4G
$20
1 Number
1500 Free National-International Minutes
Caller ID and Answerphone
Mobile Calls Cost $0.37 Per Minute GST incl
Off Peak Applies to Selected RBI Plans Only - times are between Midnight and 5 PM is Off-Peak.
Advertised connection speeds are subject to environmental factors such as location, line-of-site, noise / interference.
1GB is calculated as 1024MB.
Setup cost depends on stock availability, location and building type.
See FAQ for information about charges for additional data over and above the allocated data cap
All Residential pricing includes GST
All plans are customisable to customer requirements
Every residential connection includes a wireless router, to get your whole family connected
All equipment remains the property of Amuri.Net unless otherwise stated
For * and EA Terms & Conditions please see our Terms & Conditions
By signing up to a plan you agree to and accept the Terms & Conditions
Contact Us
How can we help?
We look forward to hearing from you.
Amuri.net Ltd.
P.O. Box 155
Culverden 7345

0800 002643
Frequently Asked Questions